I have made great progression in my professional identity. Starting this year, I had no idea where my interests lay. I have become aware of the different areas of expertise and have been able to make great steps in developing my own identity. By reflecting on my different skills I have learned on which areas I want to focus in the future and where my interests lie. Below my developments in the different areas are described.

Creativity and Aesthetics
Technology and Realization
Business and Entrepreneurship
In my first year as an industrial designer, I improved the most in this expertise area. This is also because a lot of my passions come together in this area.
I started this year with zero knowledge and skills about these creative programs such as illustrator and adobe premiere pro. I used simple programs such as paint that didn't have many options. I soon got to know the programs, but there seemed to be thousands of possibilities in these programs, This has stimulated me to use these programs more and more. Due to the extensive use of these programs, I have become increasingly handy with this, so that I took on many more tasks within different subjects and projects. (click here to view my work)
The goal of mine was to use my sketching techniques that I learned this quartile at the elective exploratory sketching. For project one, I made several sketches of ideas that I came up with at the time. I got to know a completely different side of sketching. Other than starting with an assignment, I now really started looking at how I converted my idea on paper. I think this is why I mainly developed my exploration skill. I will certainly use this more often in other projects. This is a fast and effective way to communicate the first ideas to others.
Because my passion has always been with this expertise area, I also started small projects as an extra activity. One of them is designing and customizing my own shoes, I have always felt the need to really create my own style. I think making and wearing your own clothes is a good way to express yourself to the outside world.
Technology and Realization
One of the goals of this expertise area was to work with different new materials and techniques for the project one prototype. Unfortunately, I did not use different new materials, because the idea had changed in the last week, a prototype had to be put together quickly. Because of this, we have chosen to use known materials for the prototype. This does not mean that I have not paid attention to different materials or techniques such as 3D printing. I worked with a 3D printer and printed this lizard which was an existing model. I learned the initial steps such as setting the different options of the printer. I want to use different materials in future projects and my focus is mainly on modulating products that can be printed.
In addition to that, I have gained a lot of knowledge about the program which I worked with, adobe premiere pro. For project one, I used my editing skills to make a wizard of oz prototype (as can be seen here). This way I found out that using editing for making prototypes can be an effective way to get a real idea of the product. I can add certain effects that are difficult to realize in real life, this in my opinion creates a certain "wow" effect on the user. In a sense, I have used this other technique to make a prototype that I will certainly use more often in the future. In order to make even more professional videos, I want to work on my film skills in the future.

As I said in my vision, I like to see unexpected elements in designs. A good example of this is part of the product Hunt and check. The project was about improving displays in supermarkets, in which we added two circular moving parts in our prototype in a sphere. This part attracted a lot of attention from the company CRAZE that rents out the displays.
I also improved in making certain design and technique choices on real tests, rather than thinking what is best. We as a group and myself have done a lot better in the second part of project one. I made a lot of changes with the making of the last prototype, based on making and testing it myself. Although you sometimes do not have the materials, it can often be tested on a small scale, which ultimately saves much more time.
LIn my PDP at the beginning of this semester, I set a goal to perform more user tests because I think it is very important that the lines between designer and user are as short as possible. For project one, I have been involved in the development of the first user test. For this test, I tried to recreate reality in an online dilemma game as real as possible. (More explanation can be found here and the user test can be found here). By making this user test I learned to pay attention to the small details, a small example was not adding the sound in the test. I myself had made the choice to have a user-test without sound, to focus more on the product itself. I would have been better off explaining this in advance, as we soon received many reports that the test was not working. As a result, people were too focused on no sound instead of the product.
As already mentioned I am a designer that likes to be closely involved in the final presentation. The most important thing I learned in project one is how to communicate the idea to the user. I made many different videos explaining the product. Because I was responsible for this, I learned how to view the product from the perspective of the user. For our project group, different choices were often clear and logical, but when you explain them to others, some choices do not seem logical. I think a video is one of the best ways to introduce your product to the users.
This is one of my videos I made. The rest can be seen on my projects page
In project one, it became clear to me how important it is to use experts in your design. For example, for this project, we contacted the company which was an important stakeholder for our product. I found out that certain lines seem closer than you might think at first. It seemed very difficult to talk to people in advance who have certain information that could be useful for the project. I include this knowledge in subsequent projects so that I can contact important stakeholders at an early stage. By involving these people I have gained a more professional attitude myself because these people take the time to help me on a voluntary basis. I think this was a good learning moment to realize that what you are designing at the time has an impact on the bigger problem you are designing for.
Business and Entrepreneurship
At the beginning of the year, I had little knowledge of where my interests were in area of expertise areas.
I chose to focus on areas that appealed to me. This year I developed myself and talked to several people who made me aware of entrepreneurship. This has made me very interested in starting my own business because I am an enterprising person who is open to accepting various projects. I would like to take this more seriously in the future and that is why I intend to gain more knowledge in this area. I think that choosing a course about this area next year can give me a serious insight into entrepreneurship.
 This year I started with the most knowledge in this area. To obtain my VWO and to have done a lot of mathematics and applied natural Sciences, But my interests are never related to subjects such as these. However, I noticed in the data analytics course what this knowledge is needed for. I now know how to use Python to process large amounts of data into appropriate visualizations. I first realized that applying this knowledge can be fun and useful. Normally I learned these subjects for a certain test and after it forgot the material again. With data analytics it was different, making a poster and analyzing different related problems was a more suitable way for me to absorb the material. Besides that, I have come to realize that it can be useful to analyze certain user tests in python.
The final result of my second poster can be viewed here on the right.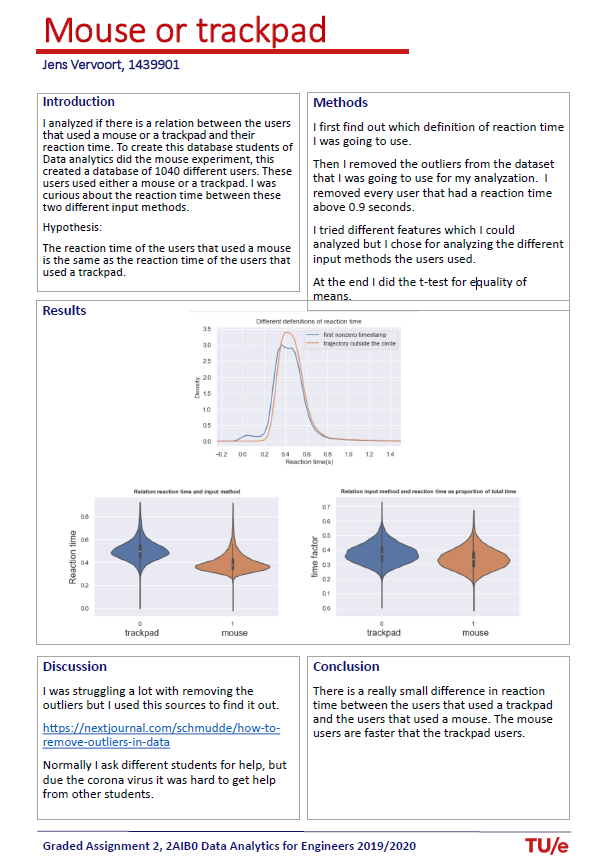 Due to the many group projects that Industrial Design offers, I have had to work a lot with other groups. I am someone who likes to work together not only to distribute work but also because I learn much more from others. In group work you see certain perspectives that you had never seen alone. I am someone who says things when I see it differently or when the agreements are not kept.
For project one, I enjoyed being with the same group for six months, so you get to know everyone his / her skills well, which also makes it easier to carry out certain actions better. I have developed to adopt a more professional attitude at meetings, with meeting agendas being followed closely.